Join the Ruby Business Network
Become a Ruby Country Partner and support your local community
You are invited to become a member of the new Ruby Country Partnership.

What is Ruby Country?
Ruby Country covers 45 parishes around Holsworthy and Hatherleigh, as shown on the map. The Ruby Country initiative was started in 2001 to help build a stronger and more robust local economy and community. The area is outstanding as a food & drink producer and is a great centre for leisure & tourism, as well as offering a wide range of services.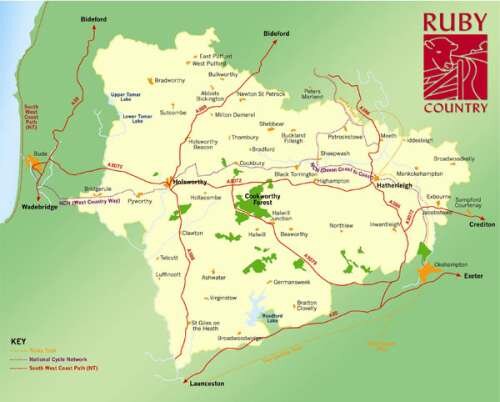 The aims of the Partnership are to:
encourage profitable local businesses and services
increase profits for local businesses
market Ruby Country to encourage sustainable tourism
develop a voice and network for local communities and local businesses
conserve and promote the unique environment and landscape of the area, including the internationally rare culm grasslands
provide a way for public funding to be secured and spent in Ruby Country to ensure a sustainable and secure future for all who live and work in the area.

Ruby Country is a community organisation and there are many ways and forums for you to have your say, and opportunities to hold events at the new hub for Ruby at Cookworthy Forest Centre. You can find more details about Ruby Country on this website.

There are two ways to become a Ruby Partner with many membership benefits:
1. Ruby Business Network Member
The Ruby Business Network was started by a small group of local businessmen and women and currently has around 250 members. The objective was simply to improve profits for local Ruby Country businesses by linking together under the Ruby Country banner, to create a Network that collectively would have influence and work towards creating a sustainable local economy that is secure to face the future. Business member partners benefit from the full range of Ruby services and advertising opportunities. These include:
Advertising: Listing on therubycountry.com website. You can have a standard entry in as many relevant categories as required.

Keep in touch

: Regular Ruby Read newsletter (e-mail or printed version).
Publicity: Regular news releases to local media. Attendance at major local shows. Ruby Country leaflets. Visitor displays in Holsworthy Visitor Information Centre and Hatherleigh Visitor Information Centre.
Branding: Use of the Ruby Country logo on promotional material.
Networking events: opportunities for members across different trades and services to meet and share best practice at socials, leaflet exchange, lectures, partner visits.
Website: Information for residents, visitors and network members, including a web forum for on-line networking with other partners.
Recreation: completion of the Ruby Way cycle route, and the Ride The Ruby Country Project to create a bridleway to link the Dartmoor Granite Way with Cookworthy Forest and develop opportunities for local businesses along the way.
Representation: Regular liaison with local and regional government, third sector, conservation and tourism organisations to ensure the Ruby voice is heard.
Ruby Business Network Membership fee 1 May 2011 – 30 April 2012: £45
---
How to join
| | |
| --- | --- |
| Download Membership Form | |
| Open a PDF version of the document | |

If you have any queries about becoming a member of The Ruby Country Partnership, please contact us by email at: This email address is being protected from spambots. You need JavaScript enabled to view it. .
We are confident that the new Ruby organisation has a long-term future under our new Partnership arrangements, and do hope that you will become a member to enable us to grow and develop our member services even further in future years.
Yours sincerely
John Allen
Chairman, The Ruby Country Partnership