Location of the Ruby Country
Ruby Country covers 45 parishes, an area of 70,467 hectares, around Holsworthy and Hatherleigh, as shown on the map. It has a population of about 18,000 which is spread between the two market towns, numerous villages and hamlets, and isolated farms and smallholdings.
The Ruby Country Initiative was started after the Foot and Mouth outbreak in 2001 to help build a stronger and more robust local economy and community.
Building on the traditional strengths of agricultural & forestry, developing sustainable tourism and highlighting the fantastic wildlife, including the rare culm grassland in the area, the aim of the project is to put Ruby Country on the map!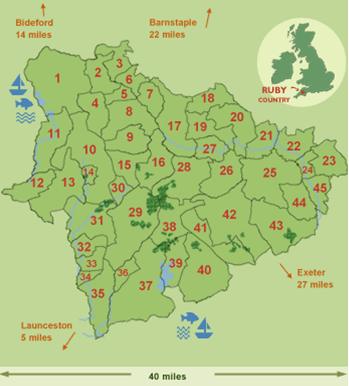 1 - Bradworthy
2 - West Putford
3 - East Putford
4 - Sutcombe
5 - Abbots Bickington
6 - Bulkworthy
7 - Newton St Petrock
8 - Milton Dameral
9 - Thornbury
10 - Holsworthy Hamlets
11 - Pancrasweek
12 - Bridgerule
13 - Pyworthy
14 - Holsworthy
15 - Cookbury
16 - Bradford
17 - Shebbear
18 - Peters Marland
19 - Buckland Filleigh
20 - Petrockstowe
21 - Meeth
22 - Iddesleigh
23 - Broadwoodkelly
24 - Monkokehampton
25 - Hatherleigh
26 - Highampton
27 - Sheepwash
28 - Black Torrington
29 - Ashwater
30 - Hollacombe
31 - Clawton
32 - Tetcott
33 - Luffincott
34 - Northcott
35 - St.Giles on the Heath
36 - Virginstowe
37 - Broadwoodwidger
38 - Halwill
39 - Germansweek
40 - Bratton Clovelly
41 - Beaworthy
42 - Northlew
43 - Inwardleigh
44 - Jacobstowe
45 - Exbourne